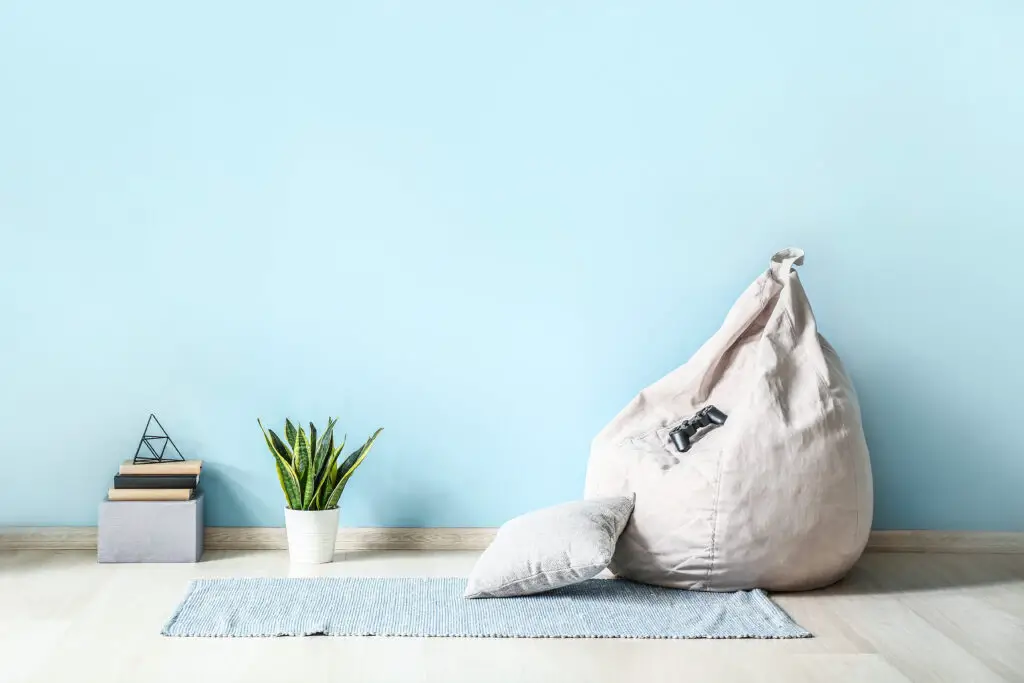 Great for seating, games, toys or even soothing away your aches and pains, beanbags have dozens of uses around the home. They're easy to make and are a great choice of project for beginners. They also make great gifts and are especially popular with children. For most beanbag projects you won't even need a pattern, so why not give them a try?
Types of Beanbag
Depending on the type of beanbag you decide to make, you'll have different issues to consider. These examples will help you to figure them out.
Seating beanbags – Beanbags designed for sitting on can vary from one to six feet in diameter, but don't get too ambitious when you're just starting out! You'll need to use sturdy fabric and a strong sewing needle. Use thick seams with a double row of stitches.
Throwing beanbags – Designed for games, these are usually about six inches in diameter but they still need to be sturdy as described above. To work well they'll need a fine filling.
Beanbag animals – These vary in complexity, so try a simple pattern first because it can be trickier than you might think. Fabrics can vary but be careful with the seams as children can be rough with their toys. It's a good idea to keep some filling aside for repairs.
Beanbag trays – Handy for holding things on your lap when you're sitting in bed or in a comfy chair, these should be made using heat-resistant, sponge-clean fabric for maximum convenience.
Snuggling beanbags – More supportive than pillows but great to curl up with, these beanbags benefit from soft, touchable fabrics. Bear in mind that fake fur often has too coarse a weave and will need to be lined first.
Soothing beanbags – Using all-natural fabrics and a cherry stone filling, you can create these useful beanbags to ease sore muscles and joints. Give them one minute in the microwave per kilo of weight and they'll retain soothing heat for up to an hour.
Beanbag Fillings
There are a wide range of fillings to choose from for beanbags today. You can use actual beans but because they're relatively expensive these don't tend to be a common choice. Lentils and dried split peas work well for smaller projects. Cherry stones are the best choice if you want to be able to heat your beanbag.
It is possible to use sand, but if you do this then your seams will need to be very tight indeed and you will inevitably lose some of it over time. Sand is good for creating firm, well-defined shapes, and may be suitable for small, detailed beanbag animals.
Most commercially made beanbags now use artificial fillings. You can buy polystyrene beads of various sizes over the internet or order them from your local sewing supply shop. They're lightweight and easy to work with, ideal for larger beanbags which could get very heavy otherwise.
Beanbag Fabrics
Choosing the right beanbag fabric is just as important as choosing the right filling. Unless your beanbag is intended to be purely ornamental, you'll need to select a fabric with a reasonable degree of strength, not something that's going to wear through. You can always make an outer covering from more delicate fabric but bear in mind that, even if leaking isn't an issue, it will still get worn over time.
Thick cotton and corduroy fabrics are excellent for beanbags. Canvas offers a wide variety of bright colours and patterns, whilst heavy velvets are ideal for combining sturdiness with strokeability. Leatherette can be a good choice for beanbags that are likely to get a lot of wear, but it can be hard work to sew and can make it difficult to create neat seams.
Beanbag Sewing Tips
Just as when making cushions or stuffed toys, you should build your beanbag inside out. The easiest shaped for a beginner is a simple flat square or rectangle made from folded-over fabric with seams on three sides. This which will become rounded as it fills. For a second project, why not try using six square panels and creating a cube? The seams will give it definition and keep it in shape.
When you've sewn most of your beanbag together, fold it the right way round leaving a suitably sized hold to insert the filling. For a larger beanbag this shouldn't be as small as a single piece of filling, or it will take you a very long time to get all the filling in! Unless it's intended to be ornamental, don't stuff the beanbag too full – leave room for the filling to move around inside as it's used. Sew the hold firmly shut, patching it if necessary, then sit back and admire your work.