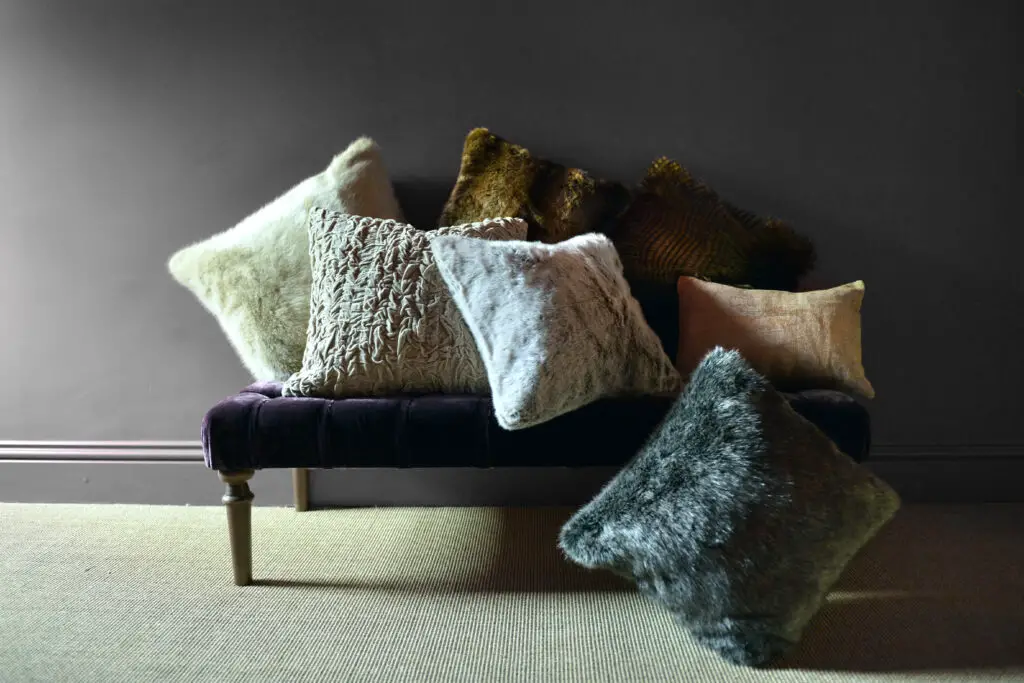 Making cushions and pillows is a great way to add character to your home. It lets you develop your own style without depending on what you can find in the shops. But sewing cushions and pillows that will last, is trickier than many people realise. It's important to know what you're doing if you want to get it right.
Inner and Outer Covers
You might be surprised how many people think a cushion is just a bag full of stuffing. Not so – just think of how difficult a cushion like that would be to wash! Like pillows, cushions need an inner cover, holding the stuffing in place, and an outer cover that is removable. This way, the outer cover – the only part exposed to dirt – can be easily cleaned.
For making inner covers, you'll need a soft, flexible fabric with a close weave to hold your stuffing material in place. Cotton muslin is a good choice as it lets the cushion 'breathe', decreasing the risk of it getting mouldy if things are accidentally spilled on it and not quickly cleaned up.
For making outer covers, you'll need a strong fabric that can cope with being tugged and scraped as people lean on it and move it around. There are many things to choose from. For luxury cushions, avoid glossy satins, which can quickly lose their sheen and look bobbly. Although you might think of it as delicate, washed silk is a much better bet, and is actually quite hard wearing.
When you design the outer covers of cushions and pillows, think about what they will feel like against your skin. Beadwork can look stylish and fashionable but is generally uncomfortable when actually used. If you want to embroider your cushions, a fine thread will be more comfortable than a thick one, even if it takes longer to sew into the design you want.
If you choose to use home fabric printing or painting kits to decorate your cushions and pillows, be careful about the dyes you choose – some can come off on pale coloured clothes.
Stuffing Materials
There are all sorts of things you can use to stuff cushions and pillows. Some people just use bits of old fabric left over from other projects. These can be problematic, however, if they get bunched up, becoming lumpy and uncomfortable. Recycling foam from old cushions is one solution, but you should be wary of this if you can't be sure it's fire safe.
Fire safety should always be a big concern when it comes to your home furnishings. Fortunately, modern stuffing materials have to meet high safety standards. Your local sewing supply shop should be able to help you get hold of some. If you intend to make a lot of cushions or pillows, you can often save money by buying in bulk.
A popular old fashioned stuffing material is feathers – especially soft, warm goose or eider down. You can order this via some sewing supply shops and websites. It's safer than older synthetic materials, though you should be aware that it doesn't meet the highest modern fire safety standards. It should be avoided if you or any member of your household has asthma.
Sewing Cushions and Pillows
Sewing cushions and pillows is relatively easy, but there are two important things to look out for:-
Keep seams flat. Your first instinct may be to keep them small, for neatness, but they'll generally look neater if they're large enough to avoid bunching, and they'll be much more comfortable that way.
Double stitch your seams. The way cushions and pillows get used can put them under a lot of strain, and you won't want to have to do repairs all the time.
There are two basic ways to close the outer cover of a cushion or pillow. One is to use a zip. Plastic zips are generally the best choice, as they're more flexible and less likely to pull apart under strain. Use a narrow zip along the full length of one side of the cover. You'll find it much easier to put in place neatly if you add it before you've sewn the other edges of the cover.
The other way to close the outer cover is to use a flap. Basically, take a piece of the same fabric approximately six inches wide, hem it, and sew it onto the edge of the fabric on one side of the open part of the cushion. Fold it round inside and sew its short edges along the seams parallel to them. You should then be able to insert the inner part of the cushion or pillow by slipping it through the gap and squeezing it under the flap.