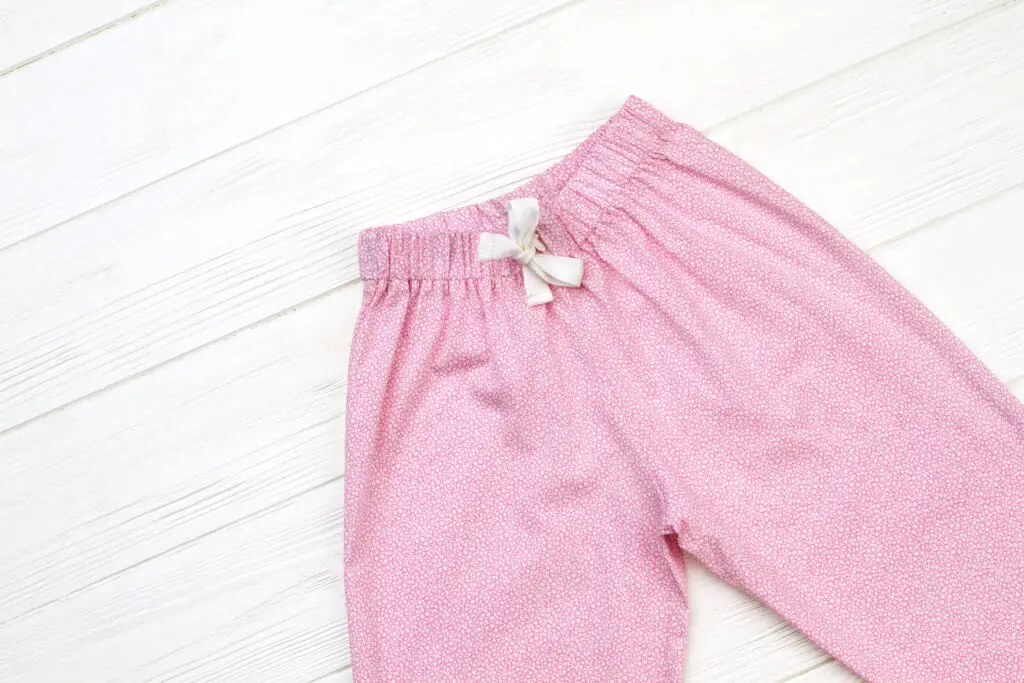 If you're just learning to sew, one of the easiest garments to make is a skirt, but to do it successfully you need to know how to make a proper waistband. Though this is fairly simple to do, it's also simple to get wrong, so – as always in sewing – it's important to plan carefully to avoid wasteful mistakes.
A common mistake when making waistbands is to think only about the waist measurement. Remember that whatever you make will have to fit over the hips too (at least when it's unfastened) so that it can be taken on and off. Make sure you use sufficient fabric to avoid stretching and straining, whatever style you choose.
Drawstring Waistbands
The easiest type of waistband to make is a draw-string waistband. Done properly, it can look perfectly neat, and it has the advantage of being adjustable, making it a great choice for maternity wear. It works best with light, soft fabrics like Indian cotton, in plain colours or with a small pattern. Avoid using it with stiff fabrics or geometric patterns.
To make a draw-string waistband, hem your fabric as closely as possible, then roll the hem over again and sew it back onto the underside of the garment, creating a narrow tube. This should be about as wide as your index finger, to make working the string through easier.
The best 'string' for this sort of skirt is a strong, woven cord, chosen in a complementary colour. You can also use ribbon which has the advantage of producing a flatter waistband but which can prove difficult to untie at the end of the day. Attach each end of the string to a bead (or similar decoration) and use this to help you work it through the tube you have made. Once it's in place, stitch the ends of the tube to make them narrower; the bead will help to stop the cord from sliding back through.
Elasticated Waistbands
Elasticated waistbands are also fairly easy to make and are practical for 'one size' clothing, though they will nip if they're too tight. Most fabric shops sell two-inch width elastic, which is the minimum size you should use for a comfortable fit. Smaller widths are also more difficult to work with.
To fit the elastic to the skirt you're making, you'll need to make a sleeve for it. Decide how wide you want the waistband to be when stretched, stretch out your elastic, and cut the same length plus two inches for overlap. You can then cut a strip of fabric of that length and sew it into a tube to slot the elastic into. Make sure to keep it pressed flat so that it's even all the way along.
It's usually easiest to sew the main part of the skirt to the waistband before the elastic is in place so that you can keep the fabric relaxed and spread it out easily. If you do make adjustments later, be sure not to sew the rest of the skirt directly onto the elastic, or it won't be able to stretch.
When the elastic is in place, overlap it at the ends and sew around the edges of the overlap in a square shape, using a zig-zag stitch. If you put a further two diagonal lines across the overlap this will generally be secure no matter how much strain the elastic comes under. You can then sew the end of the sleeve together, perhaps adding a bow or other detail to hide the finishings.
Button and Zip Waistbands
Making a waistband that will fasten with a button or zip is slightly trickier, as you'll need to measure more carefully to make sure the skirt can be taken on and off. However, once you've got the hang of this type of waistband you can also use it for making trousers.
The basic shape for a waistband of this sort is, once again, a tube, but this time, unless you're working with naturally stiff fabric, you should use a starched lining to give it the necessary firmness. Close it up at the ends but leave enough overlap for buttonholes if you plan to use a button closure. If you're using a zip, it's a good idea to add a single hook and eye fastening at the top. This provides extra security and reduces the strain on the zip, extending its life.
Whatever type of waistband you're making, don't let vanity get in the way of making the right measurements. Most people look far better in properly fitted clothes than squeezed into garments that are too tight.