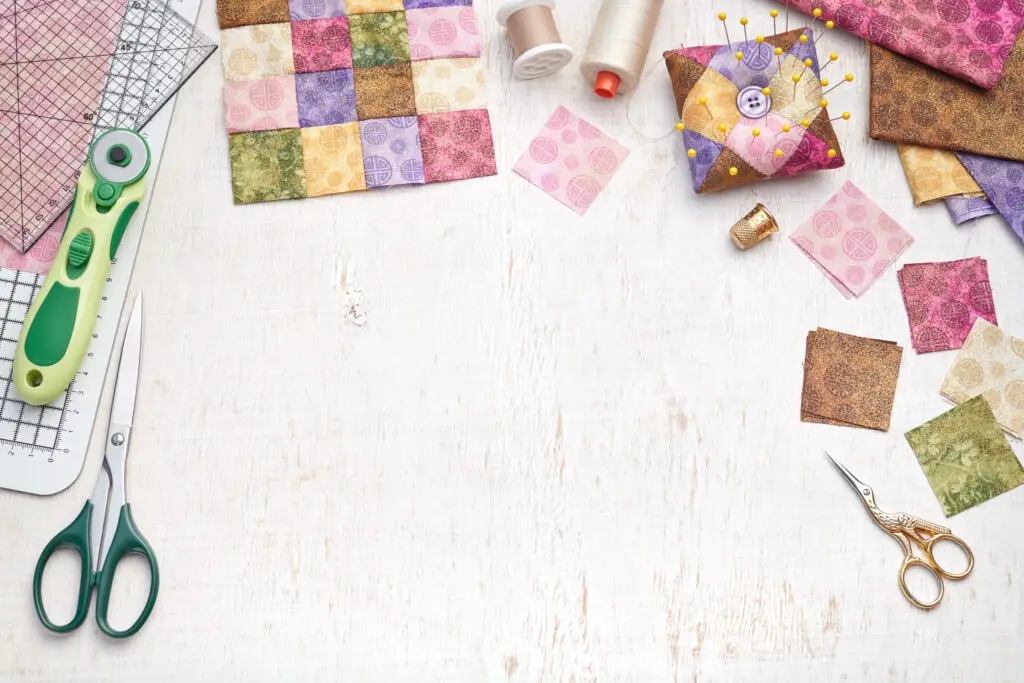 Are you tired of being restricted to plain colours or other people's pattern designs? Patchwork provides a wonderful way to bring your visual imagination to bear on the items you make, and when you combine it with quilting you can create beautiful home furnishings – or even clothes – out of pieces of fabric so small they would otherwise go to waste.
Patches and pieces
The place to begin when making anything out of patchwork is with the pieces. These need to be selected from compatible fabrics, which generally means that you'll need them to have a similar weight and flexibility so that they'll work well together. If you're working with scraps, lay them out in roughly your intended pattern first so that you can see if the colours and textures go together.
There are all sorts of different shapes you can use in patchwork, but as a rule, irregular patterns are harder work and require you to map out what you intend to do beforehand. When you're learning it's best to start with regular shapes that fit easily together, such as squares, triangles or hexagons. To make sure they're all regular, make a template out of wood or cardboard and cut around this (or score around it with a craft knife) as you prepare each one.
Once you've cut your pieces, you'll need to hem them. This can be done on a machine but many people prefer to do it by hand, often as a social activity. The most important thing to be aware of is that you need to keep your hems as narrow as possible. This is so that they don't distort the shape of the piece where they overlap at the corners.
Preparing special patches
To add a little something special to a patchwork garment, many hobbyists like to use embroidery or appliqué. When making children's quilts you can adapt this to their favourite themes, for instance by putting different animals on different patches. Just remember not to let your detail work get too close to the edges where the patches need to be joined together.
If you find that you're good at making a particular sort of special patch, why not exchange them with your friends? Gift quilts are often made by groups of people with each individual working to create unique designs. This is a great way to let somebody know how much their friends or family members care about them.
Quilting
Quilting can be done using patchwork pieces or using plain fabric. It is most often used for bedspreads but can also be incorporated into the lining of a coat or jacket for extra warmth. It basically consists of two pieces of fabric (one of which may be assembled from patches) layered on top of one another and stitched together at regular intervals (such as the corners of your patches), with insulating fluff in between them.
The fluff used in quilts is available from sewing supply shops under a variety of names. These days there is very soft, high-quality fire-resistant stuff available at low prices, so shop around until you find it. You can also order it over the internet.
The trick to successful quilting is to use strong yarn to stitch down the points between the two layers of fabric you are using. You can get special quilting needles to use this with, and you'll need a thimble because you'll have to push down hard. This kind of stitching can be done by machine but doing so is very slow and almost equally laborious.
The fabric you use for the underside of your quilt should be two inches smaller at each edge than your top piece or collection of patches. This will allow you to fold the top layer round and stitch it along the underside, giving the final piece a round-edged look that complements its overall shape. If you find this too difficult, use strips of a different fabric (heavy satin works well) to create a border.
Patchwork and quilting are both time-consuming tasks, but that's part of their appeal. They're relaxing – and addictive! No sooner will you have finished your first project than you'll find yourself wanting to start on another.