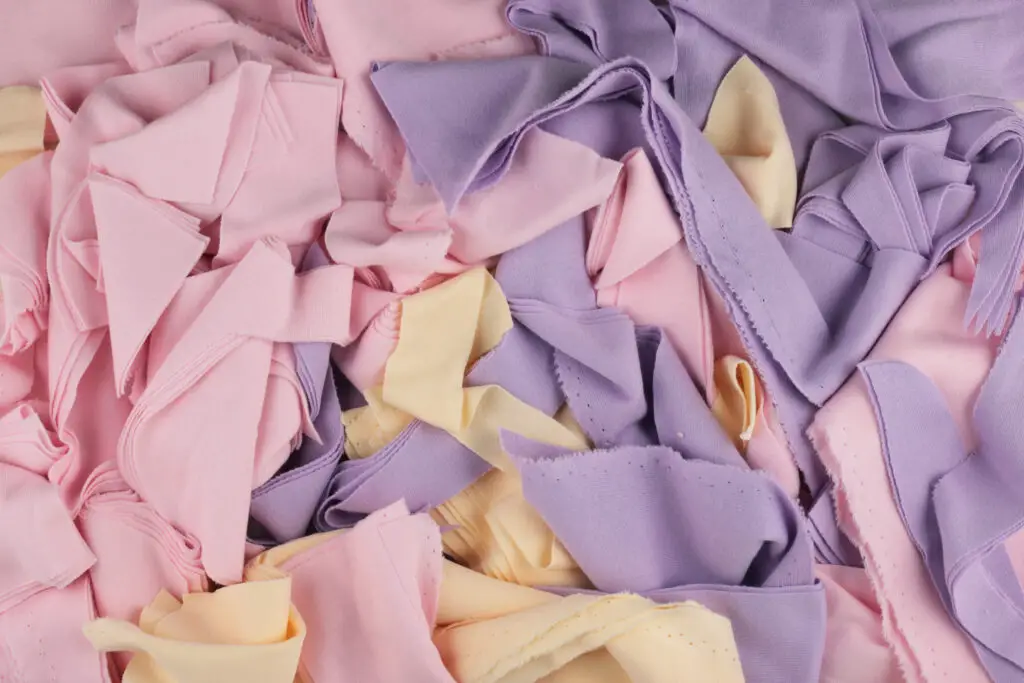 When you're doing a lot of sewing you will inevitably find yourself with scraps of fabric left over. These may seem too small to do anything with, but in fact there are many ways you can put them to use. These inventive solutions can reduce waste, save you money and help you to create exciting new things.
Patchwork
Patchwork is a great way to use up bits and pieces of fabric, especially when you have several different colours and patterns. You can use it to create bedspreads, throws, skirts and children's coats.
It's much easier to create patchwork items if you start by cutting all your scraps into the same size and shape. Squares or hexagons are the easiest shapes to fit together. Ideally you'll use scraps of about the same weight; if not, put the heavier pieces at the edges. Hem each piece individually before you stitch them together.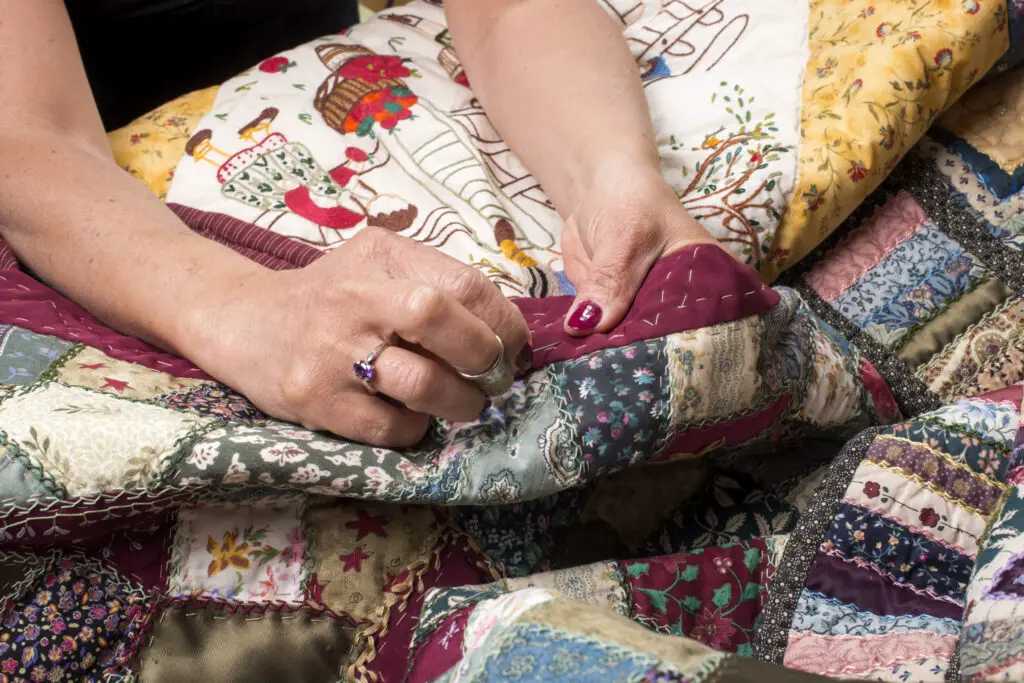 Stuffing
Any leftover scrap, no matter how small or oddly shaped, can go into stuffing for cushions, quilts or toys. It's best to shred scraps so that they are even smaller before you use them this way, as bigger ones can tangle together and create lumps. Soft scraps make the best stuffing. If you are using them for children's toys, check that they are fire safe – avoid using nylons.
Rag Rugs
You'll need a lot of scraps to make a rag rug but the result is well worth it. Start by purchasing a piece of hessian (sack cloth) – this won't cost you very much, and it will form the base of the rug. You will also need a peg to adjust the weave of the hessian as you add your rags. If you want to make it easier on yourself, ask your local sewing shop if they can sell you a special rag rug making tool.
Cut or tear your scraps into strips about one inch wide by three inches long. To create your rug, part the weave of the hessian and fold each strip underneath a couple of strands so that both ends stick out on the top. As you add more rags the weave will tighten up, making your creation secure. For extra toughness, wash it afterwards to make the hessian shrink.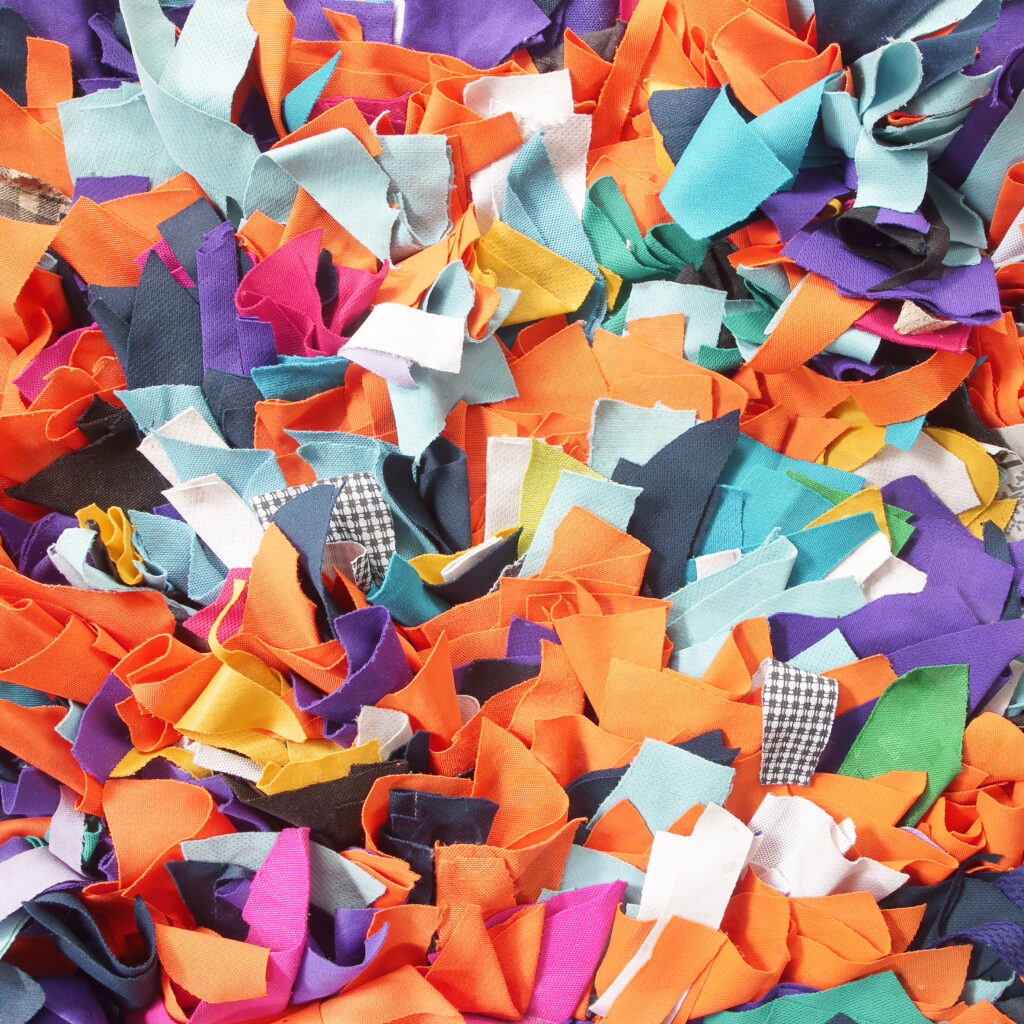 Clothing for Toys
If your scraps aren't big enough to use in clothing for adults or children, remember that toys need clothes too. A favourite doll or a much loved bear will look great with a new outfit to wear, and children will love putting different clothes on their toys for special occasions. Just remember when making the clothes that toys are often not as flexible as people. Garments should open right down the front or back and it's best to avoid stiff sleeves.
One you've got the hang of making small size clothes, you might also want to think about making a warm coat for your favourite dog to wear in winter.
Repairs and Strengthening
You won't see the scraps used for repairs and strengthening so this is a great way to use up odd-looking scraps that don't go with anything. They will need to be sturdy and non-fraying fabric is best, to save you the trouble of hemming it.
If you have clothes that are starting to strain at the seams, putting narrow fabric patches along the insides of those seams will help them to last longer. Hidden patches can also help to protect clothes that are wearing thin. When you stitch a torn garment back together, put a patch on the inside so that the thread doesn't pull loose again.
Fashion Accessories
There are lots of ways to use fabric scraps to create attractive fashion accessories. You can roll them into tubes around loops of elastic to create hair scrunchies, or cut them into hair ribbons. You can twist them up tightly and tie them together to make colourful bracelets. You can stretch thin, shiny fabrics across wire frames to create attractive pendants.
Very small pieces of fabric can be cut and folded together to make artificial flowers for decorating clothes, for wearing in hair, or for use around the home. Tiny bows of fabric can add glamour to a party dress. And leftover fabric strips are great for trimmings.
Whatever your preferred way of using them, hang on to those scraps! They're a great resource. Even if you can't quite find the right use for them yourself, you can trade them with friends who also sew until you have just the collection you need.