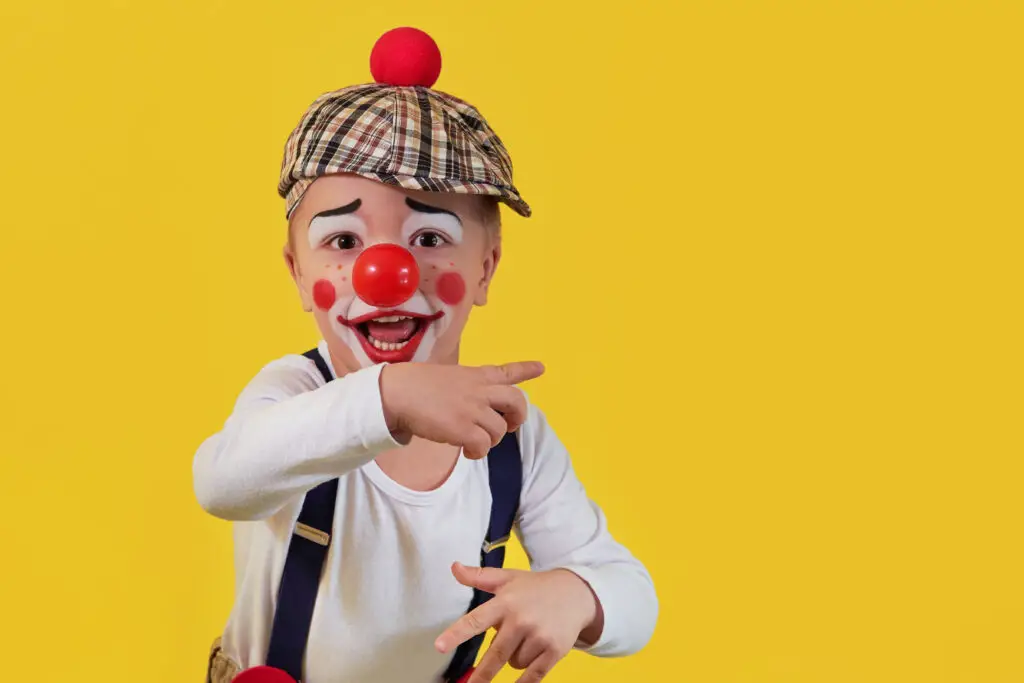 If Halloween is beckoning or a children's party is coming up you will need to put together a costume fast! Stop clowning around and follow our super simple guide to making the best costume at the party!
What You Need
There are only a few items that you will need to have to hand. You can stop worrying at this point too – you don't need to be a wiz at the sewing machine! A lot of the costume requires little or no ability with the needle and most of it can be done by hand. So breathe a sigh of relief and get the following items together:
Pins
Threads
Scissors
Ruler/measuring tape
Scraps of material – preferably in bright colours
Bright trousers – or fabric that you can use to make the trousers
Braces – raid Granddad's wardrobe if necessary!
A coloured T-shirt – any colour will do or a plain T shirt and some fabric pens
Face paints
Red nose (made of foam)
Black shoes – larger than the shoe size but make sure that the little clown can walk in them!
Start With the Trousers
Trousers are the main piece of the costume – of course the accessories are very important, but trousers are the core clothing item. You can use a spare pair that is lying around the house and can be sacrificed for the project. However, there is no need to ruin a perfectly good pair of trousers – you can make your own! Don't fret – this isn't as challenging as it sounds. Trousers have a very simple pattern. All you have to do is follow some basic measurement rules, based on the average child size. For example, an average 5-7 year old will need a pair of trousers that measure 80 centimeters down the centre seam, and 44cm across at the leg opening.
After you have sketched this out, simply pin it to your fabric. You ideally want the brightest fabric that you can lay your hands on! Tie dye or patchwork – anything goes. If you only have a pair of white or black trousers to hand, just get all the scraps of coloured fabric and use them to decorate the trousers. Loosely sew the pieces and try to cover the trousers completely – this will create a colourful and clown like centerpiece to your costume!
The T-shirt
You don't need to do too much with the t-shirt. You could just get the clown to don a bright tee and be done with it.
However, it would be fun to get the kids involved! A white t-shirt makes a great canvas and fabric pens will add the fun. Get them to draw whatever they want – a big smiley face, a clown juggling or a patterned design!
Putting it All Together
Put the trousers and the t-shirt on, add the braces, add the shoes, and then start face painting! A clown face needs a white face and an exaggerated smile and eyes. It will of course need the piece de resistance – a red nose!
Recap
Costumes aren't as difficult to put together as you think. It doesn't have to be perfect – it just has to stay true to the theme!